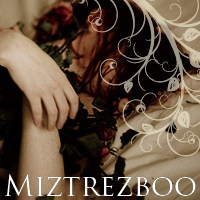 Miztrezboo
Thursday
Picture 1
Picture 2
Miztrezboo's Choice:
Picture 1
Title:
Love Letters
Dear Jasper,
No.
Dearest Jasper,
Nooo.
Dearest,
... Seriously? God, why can't I do this?
Jasper,
There, that sounds better. More me.
Jasper,

I know this isn't really the best way to do this. But, you're asleep and I know if I see your eyes and smile I won't be able to leave.
Shit. He's going to think I'm breaking up with him. Fuck.
Jazzy,

I'm sorry to do this while you're asleep, but I love you too much to wake you up before I...
I am officially the worst writer ever.
Jazz,

Last night was... amazing. You were amazing. That thing you did with your tongue? Amazing. The food and the company... amazing. And in case you didn't pick up on it, the sex, AMAZING.
And I need to buy a thesaurus - or at least some of that Word of the Day toilet paper that I bought Emmett last year.
J,

I'll be back.

A.
Mary Alice Brandon. You are not the Terminator.
But fuck it, it'll do.
----