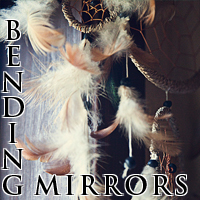 Bendingmirrors
Monday
Picture 1
Picture 2
Bendingmirror's Choice:
Both
Title:
Summer Christmas
The whole idea that while we were shivering in the dead of winter while the other half of the world was sweltering in summer had always struck me as odd. So when the opportunity to try a summertime Christmas presented itself I grabbed onto it with both hands.
Renee had been dating Phil for just over a year when he was invited to play an exhibition game in Sydney, Australia. Renee had always wanted to travel overseas, and I knew that if she managed to convince Phil to take her along then I would definitely be included, she'd never spend Christmas in another country without me. So we set about convincing Phil that he needed us with him, that he couldn't possibly spend the holiday on his own.
So that was how we found ourselves in an airport a few days before Christmas dressed in layers we could shed while travelling towards summer. The cavernous space was dotted with people who had forgotten all about the Spirit of the Season while they attempted to push and shove their way through security lines in an attempt to be the first to sit and wait for the plane to board. The first plane trip from New York to Los Angeles wasn't too bad, the anticipation kept me buzzing, but the long haul flight from LA to Sydney was endless. Hours upon hours of trapped in a plane had me semi-convinced that I would just find a way to live in Sydney, I wasn't going to subject myself to the return trip.
But the wait was worth it, flying into Sydney over its two most famous landmarks lit up at night to display themselves at their best was magical, the strange peaks of the Opera House reflecting light better than the stretching Harbour Bridge. Circling the city, waiting to land I found myself feeling a little less enchanted.
When we were finally released from our metal prison, and through the long, long lines at customs, we made our way out into the balmy night air towards the sign displaying Phil's name. The driver wove his way through the streets and onto a highway towards our hotel. I didn't know much about Sydney but I did know that Phil had chosen a hotel in the city that had views of the harbour rather than staying out near the Olympic Park where the exhibition game would be played. Phil had mentioned something about the Australian team not receiving much support due to a lack of exposure to baseball, so they were hoping to raise it's profile by playing some of the minor league teams from the USA. The game was set for the day after Christmas, and apparently they were competing for crowds with some big game of cricket that was being played in Melbourne that was televised across the country.
Either way, Phil would be busy prepping with his team while we were here, and we would be free to explore the city on our own. Renee and I were determined that we would sample a little of everything while we were in the city, starting with a trip to the beach. We had originally thought we'd catch a bus out to Bondi Beach, but when we'd approached the concierge, she'd told us that we would be far better off catching a ferry to Manly, walking along The Corso and trying Manly beach. Something in the way she'd shuddered when we mentioned swimming at Bondi convinced us that we'd be better off listening and swimming at Manly.
The ferry ride was a little on the rough side, especially when we 'went through the heads' but the sights were amazing. The water shimmering, light bouncing around playfully as we made our way out from Circular Quay and into the open water. Eventually arriving in Manly, we wandered along the main pedestrian thoroughfare wending our way through the crowds of people pouring in and out of little shops with bags full of souvenirs, ice creams and other paraphernalia. The sun overhead beating down on us and forming a haze on the cobblestone path making it was hard to believe that this was the end of December.
The golden sand of the beach was so hot it felt like it had just come out of an oven. I wondered how it was that so many of the people on the beach were wandering around barefoot, I had no intentions of taking the flip flops off my feet while the sand was this hot. We made our way across to a vacant spot, and settled ourselves down on our towels. Stripping down to our bikinis, we covered ourselves in sunscreen and settled in to watch the people around us before indulging in a swim ourselves.
By the time the afternoon was drawing to a close, we had both enjoyed a good swim in the salty water, and the novelty of swimming in December. Tired, but happy we threw our shorts and shirts back on and started to make our way back along the beach to catch a ferry back to our hotel. I hadn't even made it five steps along the beach before I tripped and fell into him. He'd been packing up his own belongings, bringing his day at the beach to a close. His steadying arms wrapped around me, and set me back on my feet.
Winking at me he said. "Well, I know I've always been charming, but this has to be the first time that anyone's actually fallen for me this quickly!"
"Do those cheesy lines ever work for you?" I teased him back.
"Don't know, I've never tried before. I'm Chris, and judging by that lovely accent, you're only holidaying here." His grey eyes shone brightly with a hint of mischief as he introduced himself.
"You'd be right, I'm Bella." I offered my hand to him, but before I knew what was happening, he'd reached over to bend me over, like they do in the movies, for one of those old style Hollywood kisses.
I came up spluttering, outraged that a stranger would feel comfortable enough to man-handle me like that.
"Sorry, I couldn't resist. I had a feeling you'd be easy to rile."
I had no idea how to respond to that, so I grabbed the bags that I'd dropped when I'd first fell into him and started up the beach to where Renee stood waiting for me.
"Bella, please, I'd love to make it up to you, show you around a little. Offer you both my services as a tour guide."
I thought about it for a few minutes, looking towards mom to see what she thought. I could tell that she was a little bit excited that she might get to see a holiday romance unfold before her eyes, so I turned back to him.
"Bella Swan, I'm staying at the Shangri-La hotel with Mom and Phil. We'll look forward to you showing us some more of Sydney tomorrow morning at 9 sharp. How about we meet you in the lobby?"
His answering grin said it all, but he confirmed it with "Sure thing, I'll be there bright and early, we'll show you the very best Sydney has to offer."