Kimmydonn
Sunday
Picture 1
Picture 2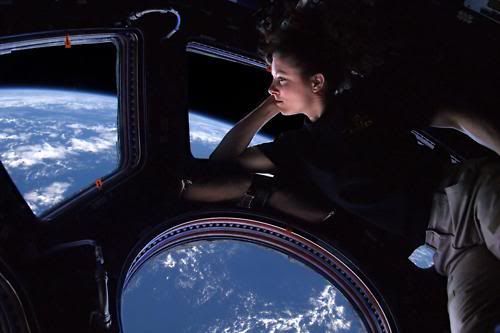 Kimmydonn's Choice:
Both
Title:
Home
The station turned lazily in the black. Julia should have been watering her hibiscus, but she was feeling lethargic. How could weightlessness be so heavy? It was counter-intuitive. A mere nudge would send her flying across the tiny room, away from the window she lay on, but she is rooted to the spot, rooted to the blue orb below.
Home.
How she longed for the colours, the smells, the sounds. It was so quiet here. The inhabitants are the only real source of sounds, and Zack's snoring is going to drive her insane. They're the only smells as well. As much as everyone tries to keep themselves clean, there is a stale sweat smell that never really goes away. And the colours. Julia's cubby, the closet she sleeps in, holds the few personal belongings she was able to stash away, and her flag is probably the brightest colour in her day. Red and white, it seems to shine in the artificial light. Everything else is blue or grey or black. Even the planet below, cold and blue.
She shivers and closes her eyes, pushing just far enough to wrap her arms around herself. Her mind turns to home, to the badlands, the canyons and coulees cut through the stratified layers of earth. The bright sun washes out colour in a different way. Not black and blue and grey, but yellow and brown and white. Reds and oranges are common.
Both places lack one colour. Green. Opening her eyes with a sigh, Julia swivels in midair and kicks off the window toward her greenhouse. Smiling at her hibiscus, she waters it and marks it on the log book above the growth chamber.
One more day. One day closer to home.